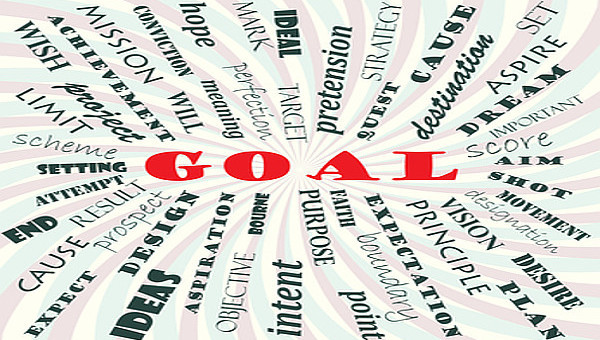 199 Quotes about Goal Setting
Unstick.Me has compiled 199 famous goal setting quotes to help inspire, motivate, and encourage you. We have curated these from a large range of sources and have tried to cover as many topics within goal setting as possible. If there are goal setting quotes you feel we missed, or if you believe we have misquoted someone, please let us know in the comments section below.
1) "It doesn't matter who you are, where you come from. The ability to triumph begins with you. Always."

– Oprah Winfrey
2) "It is hard to fail, but it is worse never to have tried to succeed."

– Theodore Roosevelt
3) "Out of clutter, find Simplicity. From discord, find Harmony. In the middle of difficulty lies Opportunity.""

– Albert Einstein
4) "Well done is better than well said."

– Benjamin Franklin
5) "There is only one success… to be able to spend your life in your own way, and not to give others absurd maddening claims upon it."

– Christopher Morley
6) "It's not the load that breaks you down, it's the way you carry it."

– Lou Holtz
7) "Give me six hours to chop down a tree and I will spend the first four sharpening the axe."

– Abraham Lincoln
8) "The men who have succeeded are men who have chosen one line and stuck to it."

– Andrew Carnegie
9) "When one door closes, another opens; but we often look so long and so regretfully upon the closed door that we do not see the one which has opened for us."

– Alexander Graham Bell
10) "Behind every successful man there's a lot of unsuccessful years."

– Bob Brown
11) "Ability is what you're capable of doing. Motivation determines what you do. Attitude determines how well you do it."

– Lou Holtz
12) "The world has the habit of making room for the man whose words and actions show that he knows where he is going."

– Napoleon Hill
13) "You miss 100% of the shots you don't take."

– Wayne Gretzky
14) "Entrepreneurs don't waste time/energy worrying about being better than someone else. Focus on being the very best version of YOU."

– Abdulaziz Aljouf
15) " There are many paths to the top of the mountain, but the view is always the same."

– Chinese Proverb
16) "All you need in this life is ignorance and confidence; then success is sure."

– Mark Twain
17) "If you genuinely want something, don't wait for it – teach yourself to be impatient."

– Gurbaksh Chahal
18) "There are no secrets to success. It is the result of preparation, hard work, learning from failure."

– Colin Powell
19) "The entrepreneur is essentially a visualizer and actualizer… He can visualize something, and when he visualizes it he sees exactly how to make it happen."

– Robert L. Schwartz
20) "Success on any major scale requires you to accept responsibility… in the final analysis, the one quality that all successful people have… is the ability to take on responsibility."

– Michael Korda
21) "No man becomes rich without himself enriching others."

– Andrew Carnegie
22) "Success belongs to those who believe in the power of their ideas."

– Michael Irwin
23) "Our greatest glory is not in never falling, but in rising every time we fall."

– Confucius
24) "Only put off until tomorrow what you are willing to die having left undone."

– Pablo Picasso
25) "Nothing can stop the man with the right mental attitude from achieving his goal; nothing on earth can help the man with the wrong mental attitude."

– Thomas Jefferson
26) "By recording your dreams and goals on paper, you set in motion the process of becoming the person you most want to be. Put your future in good hands — your own."

– Mark Victor Hansen
27) "Try not to become a man of success, but rather try to become a man of value."

– Albert Einstein
28) "None of us will ever accomplish anything excellent or commanding except when he listens to this whisper which is heard by him alone."

– Ralph Waldo Emerson
29) "Life isnt about learning how to weather the storm. its about learning how to dance in the rain."

– Monica Fish
30) "A ship in harbor is safe, but that is not what ships are built for."

– William G.T. Shedd
31) "When you want to succeed as bad as you want to breathe, then you'll be successful."

– Eric Thomas
32) "The greater danger for most of us is not that our aim is too high and we miss it, but that it is too low and we reach it "

– Michelangelo
33) "I've missed more than 9000 shots in my career. I've lost almost 300 games. Twenty-six times I've been trusted to take the game winning shot and missed. I've failed over and over and over again in my life. And that is why I succeed."

– Michael Jordan
34) "The starting point of great success in your life begins, in the simplest terms, when you discipline yourself to think and talk about only the things you want and refuse to think and talk about anything you don't want."

– Brian Tracy
35) "Success is walking from failure to failure with no loss of enthusiasm. "

– Winston Churchill
36) "Things come to those who wait, but only the things left by those who hustle"

– Abraham Lincoln via Tina MiModels
37) "The journey of a thousand miles must begin with a single step."

– Lao Tzu
38) "The tragedy in life doesn't lie in not reaching your goal. The tragedy lies in having no goal to reach."

– Benjamin Mays
39) "All our dreams can come true if we have the courage to pursue them."

– Walt Disney
40) "The difference between a successful person and others is not a lack of strength, not a lack of knowledge, but rather a lack in will."

– Vince Lombardi Jr.
41) "Forget all the reasons it won't work and believe the one reason that it will."

– Unknown
42) "If opportunity doesn't knock, build a door"

– Milton Berle
43) "People rarely succeed unless they have fun in what they are doing."

– Dale Carnegie
44) "Success doesn't mean the absence of failures; it means the attainment of ultimate objectives. It means winning the war, not every battle."

– Edwin Bliss
45) "How you start is important, but it is how you finish that counts. In the race for success, speed is less important than stamina. The sticker outlasts the sprinter."

– B. C. Forbes
46) "We cannot change the cards we are dealt, just how we play the hand."

– Randy Pausch
47) "Success is often the result of taking a misstep in the right direction."

– Bernstein, Al
48) "There is no elevator to success. You have to take the stairs. "

– Author unknown
49) "Nothing in the world can take the place of Persistence. Talent will not; nothing is more common than unsuccessful men with talent. Genius will not; unrewarded genius is almost a proverb. Education will not; the world is full of educated derelicts. Persistence and determination alone are omnipotent. The slogan 'Press On' has solved and always will solve the problems of the human race."

– Calvin Coolidge
50) "A strong, successful man is not the victim of his environment. He creates favorable conditions. His own inherent force and energy compel things to turn out as he desires."

– Orison Swett Marden
51) "Don't judge each day by the harvest you reap, but by the seeds you plant."

– Robert Louis Stevenson
52) "Inaction breeds doubt and fear. Action breeds confidence and courage. If you want to conquer fear, do not sit at home and think about it. Go out and get busy."

– Dale Carnegie
53) "I have not failed. I've just found 10,000 ways that won't work."

– Thomas A. Edison
54) "There are two types of people who will tell you that you cannot make a difference in this world: those who are afraid to try and those who are afraid you will succeed."

– Ray Goforth
55) "Vision without execution is just hallucination."

– Henry Ford
56) "Four things for success: work and pray, think and believe."

– Norman Vincent Peale
57) "Attach yourself to your passion, but not to your pain. Adversity is your best friend on the path to success."

– Author Unknown
58) "Whenever you see a successful person you only see the public glories, never the private sacrifices to reach them."

– Vaibhav Shah
59) "Success is not the key to happiness. Happiness is the key to success. If you love what you are doing, you will be successful."

– Albert Schweitzer
60) "our success and happiness lies in you. Resolve to keep happy, and your joy and you shall form an invincible host against difficulties."

– Helen Keller
61) "Believe in yourself! Have faith in your abilities! Without a humble but reasonable confidence in your own powers you cannot be successful or happy."

– Norman Vincent Peale
62) "Every accomplishment begins with the decision to try."

– Anonymous
63) "There are no shortcuts to any place worth going"

– Helen Keller
64) "The starting point of all achievement is desire."

– Napolean Hill
65) "There's only one corner of the universe you can be certain of improving, and that's your own self."

– Aldous Huxley
66) "Yesterday is gone. Tomorrow has not yet come. We have only today. Let us begin."

– Mother Teresa
67) "The greatest discovery of my generation is that a human being can alter his life by altering his attitudes of mind. "

– William James
68) "If you want to achieve greatness stop asking for permission."

– Anonymous
69) "Successful and unsuccessful people do not vary greatly in their abilities. They vary in their desires to reach their potential."

– John Maxwell
70) "I've been blessed to find people who are smarter than I am, and they help me to execute the vision I have."

– Russell Simmons
71) "The foolish man seeks happiness in the distance. The wise grows it under his feet."

– James Oppenheim
72) "The road to success is always under construction"

– Lily Tomlin
73) "People who succeed have momentum. The more they succeed, the more they want to succeed, and the more they find a way to succeed. Similarly, when someone is failing, the tendency is to get on a downward spiral that can even become a self-fulfilling prophecy."

– Tony Robbins
74) "When you can't change the direction of the wind, just adjust your sails."

– H. Jackson Brown Jr
75) "Accept responsibility for your life. Know that it is you who will get you where you want to go, no one else."

– Les Brown
76) "Hard work beats talent when talent doesn't work hard."

– Tim Notke
77) "Keep away from people who try to belittle your ambitions. Small people always do that, but the really great make you feel that you, too, can become great."

– Mark Twain
78) "Success does not consist in never making mistakes but in never making the same one a second time."

– George Bernard Shaw
79) "The good news is that the moment you decide that what you know is more important than what you have been taught to believe, you will have shifted gears in your quest for abundance. Success comes from within, not from without."

– Ralph Waldo Emerson
80) "Kites rise highest against the wind, not with it."

– Winston Churchill
81) "If A is a success in life, then A equals x plus y plus z. Work is x; y is play; and z is keeping your mouth shut"

– Albert Einstein
82) "Keep on going, and the chances are that you will stumble on something, perhaps when you are least expecting it. I never heard of anyone ever stumbling on something sitting down."

– Charles F. Kettering
83) "If you don't build your dream, someone else will hire you to help them build theirs."

– Dhirubhai Ambani
84) "Get going. Move forward. Aim High. Plan a takeoff. Don't just sit on the runway and hope someone will come along and push the airplane. It simply won't happen. Change your attitude and gain some altitude. Believe me, you'll love it up here."

– Donald Trump
85) "Desire is the starting point of all achievement, not a hope, not a wish, but a keen pulsating desire, which transcends everything. "

– Napoleon Hill
86) "So be sure when you step, Step with care and great tact. And remember that life's A Great Balancing Act. And will you succeed? Yes! You will, indeed! (98 and ¾ percent guaranteed) Kid, you'll move mountains."

– Dr. Seuss, Oh, The Places You'll Go!
87) "We are told that talent creates its own opportunities. But it sometimes seems that intense desire creates not only its own opportunities, but its own talents."

– Eric Hoffer
88) "Unfortunately, there seems to be far more opportunity out there than ability. We should remember that good fortune often happens when opportunity meets with preparation."

– Thomas Edison
89) "Don't limit yourself. Many people limit themselves to what they think they can do. You can go as far as you mind lets you. What you believe, you can achieve."

– Mary Kay Ash
90) "The only place where success comes before work is in the dictionary."

– Vidal Sassoon
91) "Nobody who ever gave his best regretted it."

– George Halas
92) "The only thing standing between you and your goal is the bullshit story you keep telling yourself as to why you can't achieve it."

– Jordan Belfort
93) "Be content to act, and leave the talking to others."

– Baltasa
94) "Whatever you vividly imagine, ardently desire, sincerely believe, and enthusiastically act upon… must inevitably come to pass!"

– Paul J. Meyer
95) "What lies behind us and what lies before us are tiny matters compared to what lies within us."

– Ralph Waldo Emerson
96) "People often say that motivation doesn't last. Well, neither does bathing – that's why we recommend it daily."

– Zig Ziglar
97) "Success is being able to juggle those Glass Balls called Priorities and keeping them shiny & intact while running the Marathon of Life"

– Jouyin Teoh
98) "We are what we repeatedly do; excellence, then, is not an act but a habit."

– Aristotle
99) "Nobody ever wrote down a plan to be broke, fat, lazy, or stupid. Those things are what happen when you don't have a plan."

– Larry Winget
100) "Believe in yourself! Have faith in your abilities! Without a humble but reasonable confidence in your own powers you cannot be successful or happy."

– Norman Vincent Peale
101) "You're not obligated to win. You're obligated to keep trying. To the best you can do everyday."

– Jason Mraz
102) "For true success ask yourself these four questions: Why? Why not? Why not me? Why not now? "

– James Allen
103) "If at first you don't succeed; you are running about average. "

– Alderson, M.H.
104) "Eighty percent of success is showing up."

– Woody Allen
105) "Judge your success by what you had to give up in order to get it."

– Dalai Lama XIV
106) "The successful warrior is the average man, with laser-like focus."

– Bruce Lee
107) "The ability to discipline yourself to delay gratification in the short term in order to enjoy greater rewards in the long term, is the indispensable prerequisite for success."

– Brian Tracy
108) "The successful man will profit from his mistakes and try again in a different way."

– Norman Vincent Peale
109) "To achieve the impossible, it is precisely the unthinkable that must be thought."

– Tom Robbins
110) "Don't judge each day by the harvest you reap but by the seeds you plant."

– Robert Louis Stevenson
111) "The secret of success is to do the common things uncommonly well."

– John D. Rockefeller
112) "Whether you think you can or you can't, you are right."

– Henry Ford
113) "The test of success is not what you do when you are on top. Success is how high you bounce when you hit the bottom."

– George S. Patton Jr.
114) "Failure is not in your vocabulary; rather, you convert all working experiences, be they positive or negative, into fuel for future success. "

– Anonymous
115) "You may only succeed if you desire succeeding; you may only fail if you do not mind failing"

– Philippos
116) "The superior man is modest in his speech, but exceeds in his actions."

– Confucius
117) "If you want to achieve excellence, you can get there today. As of this second, quit doing less-than-excellent work."

– Thomas J Watson
118) "Do not go where the path may lead, go instead where there is no path and leave a trail."

– Ralph Waldo Emerson
119) "In order to succeed, your desire for success should be greater than your fear of failure."

– Bill Cosby
120) "Opportunities don't happen, you create them."

– Chris Grosser
121) "Only those who dare to fail greatly can ever achieve greatly."

– Robert F. Kennedy
122) "Success is about creating benefit for all and enjoying the process. If you focus on this & adopt this definition, success is yours."

– Kelly Kim
123) " price has to be paid for success. Almost invariably those who have reached the summits worked harder and longer, studied and planned more assiduously, practiced more self-denial, overcame more difficulties than those of us who have not risen so far."

– B. C. Forbes
124) "Concentration of effort and the habit of working with a definite chief aim are two of the essential factors in success which are always found together. One leads to the other."

– Napoleon Hill
125) "Always bear in mind that your own resolution to success is more important than any other one thing."

– Abraham Lincoln
126) "What we are today comes from our thoughts of yesterday, and our present thoughts build our life of tomorrow: Our life is the creation of our mind."

– Buddha
127) "If you have no critics you'll likely have no success."

– Malcolm X
128) "You can do anything if you have enthusiasm. Enthusiasm is the yeast that makes your hopes rise to the stars. With it, there is accomplishment. Without it there are only alibis."

– Henry Ford
129) "Success is not measured by what you accomplish, but by the opposition you have encountered, and the courage with which you have maintained the struggle against overwhelming odds."

– Orison Swett Marden
130) "If we did all the things we are capable of, we would astound ourselves."

– Thomas Edison
131) "There are two rules to success: 1) Never tell everything you know."

– Nick Tart
132) "Failure defeats losers, failure inspires winners."

– Robert T. Kiyosaki
133) "Some people dream of great accomplishments, while others stay awake and do them."

– Anonymous
134) "Aim for success, not perfection. Never give up your right to be wrong, because then you will lose the ability to learn new things and move forward with your life."

– Dr. David M. Burns
135) "Whatever you do, you need courage. Whatever course you decide upon, there is always some one to tell you that you are wrong. There are always difficulties arising to tempt you to believe your critics are right. To map out a course of action and follow it to an end requires some of the same courage that a soldier needs. Peace has it's victories, but it takes brave men and women to win them."

– Ralph Waldo Emerson
136) "Knowing is not enough; we must apply. Willing is not enough; we must do."

– Goethe
137) "Success is the sum of small efforts, repeated day-in and day-out."

– Robert Collier
138) "I will tell you how to become rich. Close the doors. Be fearful when others are greedy. Be greedy when others are fearful."

– Warren Buffet
139) "Nobody can go back and start a new beginning, but anyone can start today and make a new ending."

– Maria Robinson
140) "If I have the belief that I can do it, I shall surely acquire the capacity to do it even if I may not have it at the beginning."

– Gandhi
141) "As human beings, our greatness lies not so much in being able to remake the world…as in being able to remake ourselves."

– Mahatma Gandhi
142) "No one is going to hand me success. I must go out & get it myself. That's why I'm here. To dominate. To conquer. Both the world, and myself."

– Unknown
143) "Before the reward there must be labor. You plant before you harvest. You sow in tears before you reap joy. "

– Ralph Ransom
144) "The only way of finding the limits of the possible is by going beyond them into the impossible. "

– Arthur C. Clarke
145) "The winners in life think constantly in terms of I can, I will, and I am. Losers, on the other hand, concentrate their waking thoughts on what they should have or would have done, or what they can't do."

– Dennis Waitley
146) "As soon as you realize that you don't need anyone to make it in life. That's your first step towards success. "

– Vusi Ndlovu
147) "Yesterday is not ours to recover, but tomorrow is ours to win or lose."

– Lyndon Johnson
148) "Persevere…because on the road to success there is never a crowd on the extra mile!"

– Charity Gibson
149) "Strength does not come from winning. Your struggles develop your strengths. When you go through hardships and decide not to surrender, that is strength."

– Arnold Schwarzenegger
150) "If you're not failing every now and again, it's a sign you're not doing anything very innovative."

– Woody Allen
151) "The quality of a man's life is in direct proportion to his commitment to excellence, regardless of his chosen field of endeavor."

– Vince Lombardi Jr.
152) "If I cannot do great things, I can do small things in a great way"

– Martin Luther King Jr.
153) "We become what we think about most of the time, and that's the strangest secret. "

– Earl Nightingale
154) "Victory is sweetest when you've known defeat."

– Malcolm Forbes
155) "The great successful men of the world have used their imagination. They think ahead and create their mental picture in all its details, filling in here, adding a little there, altering this a bit and that a bit, but steadily building – steadily building."

– Robert Collier
156) "It is not the strongest of the species that survive, nor the most intelligent, but the one most responsive to change."

– Charles Darwin
157) "Whatever you can do, or dream you can, begin it…Boldness has genius, power, and magic in it."

– Goethe
158) "The only way to do great work is to love what you do. If you haven't found it yet, keep looking. Don't settle."

– Steve Jobs
159) "It had long since come to my attention that people of accomplishment rarely sat back and let things happen to them. They went out and happened to things."

– Leonardo da Vinci
160) "A desire presupposes the possibility of action to achieve it; action presupposes a goal which is worth achieving."

– Ayn Rand
161) "The only thing that can stop you is the doubt that you carry in your mind. "

– Chae Richardson
162) "If you are not willing to risk the usual you will have to settle for the ordinary."

– Jim Rohn
163) "All progress takes place outside the comfort zone."

– Michael John Bobak
164) "A successful man is one who can lay a firm foundation with the bricks others have thrown at him."

– David Brinkley
165) "Success is a little like wrestling a gorilla. You don't quit when you're tired. You quit when the gorilla is tired."

– Robert Strauss
166) "Only those who dare to fail greatly can ever achieve greatly."

– Robert F. Kennedy
167) "The elevator to success is out of order. You'll have to use the stairs…. One step at a time."

– Rande Wilson
168) "Success is not final, failure is not fatal: it is the courage to continue that counts."

– Winston Churchill
169) "Let no feeling of discouragement prey upon you, and in the end you are sure to succeed."

– Abraham Lincoln
170) "Victory becomes, to some degree, a state of mind. Knowing ourselves superior to the anxieties, troubles, and worries which obsess us, we are superior to them."

– Basil King
171) "To make our way, we must have firm resolve, persistence, tenacity.We must gear ourselves to work hard all the way. We can never let up."

– Ralph Bunche
172) "Success is a state of mind. If you want success, start thinking of yourself as a success."

– Dr. Joyce Brothers
173) "Failure is the condiment that gives success its flavor."

– Truman Capote
174) "Fortune favours the brave. "

– Publius Terence
175) "Take up one idea. Make that one idea your life – think of it, dream of it, live on that idea. Let the brain, muscles, nerves, every part of your body, be full of that idea, and just leave every other idea alone. This is the way to success."

– Swami Vivekananda
176) "God gives every bird his worm but He does not throw it into the nest"

– Liam Carey
177) "Here's to the crazy ones. The misfits. The rebels. The troublemakers. The round pegs in the square holes. The ones who see things differently. They're not fond of rules. And they have no respect for the status quo. You can quote them, disagree with them, glorify or vilify them. About the only thing you can't do is ignore them. Because they change things. They push the human race forward. And while some may see them as the crazy ones, we see genius. Because the people who are crazy enough to think they can change the world, are the ones who do."

– Steve Jobs
178) "The first step toward success is taken when you refuse to be a captive of the environment in which you first find yourself."

– Mark Caine
179) "Accomplishments will prove to be a journey, not a destination."

– Dwight D. Eisenhower
180) "If you think you made it, your at the wrong place, never stop"

– Chris Pardo
181) "Be patient with yourself. Self-growth is tender; it's holy ground. There's no greater investment."

– Stephen Covey
182) "Patience, persistence and perspiration make an unbeatable combination for success."

– Napoleon Hill
183) "If you have an important point to make, don't try to be subtle or clever. Use a pile driver. Hit the point once. Then come back and hit it again. Then hit it a third time – a tremendous whack."

– Sir Winston Churchill
184) "Whenever an individual or a business decides that success has been attained, progress stops. The way to succeed is to double your error rate."

– Thomas J. Watson
185) "Without continual growth and progress, such words as improvement, achievement, and success have no meaning."

– Benjamin Franklin
186) "The more you lose yourself in something bigger than yourself, the more energy you will have."

– Norman Vincent Peale
187) "The question isn't who is going to let me; it's who is going to stop me."

– Ayn Rand
188) "Successful entrepreneurs are givers and not takers of positive energy. "

– Anonymous
189) "Destiny is not a matter of chance; it is a matter of choice. It is not a thing to be waited for; it is a thing to be achieved."

– William Jennings Bryan
190) "As long as you're going to be thinking anyway, think big."

– Donald Trump
191) "I have learned that success is to be measured not so much by the position that one has reached in life as by the obstacles which he has overcome while trying to succeed."

– Booker T. Washington
192) "Don't let what you can't do stop you from doing what you can do. "

– John Wooden
193) "Top Achievers are improvisors, not perfectionists. If you want to create more success in your life you have to move forward not knowing all the answers. "

– Douglas Vermeeren
194) "It is hard to fail, but it is worse never to have tried to succeed. "

– Theodore Roosevelt
195) "Look at a day when you are supremely satisfied at the end. It's not a day when you lounge around doing nothing, it's when you've had everything to do and you've done it. "

– Margaret Thatcher
196) "Success is liking yourself, liking what you do, and liking how you do it."

– Maya Angelou
197) "The way to get started is to quit talking and begin doing."

– Walt Disney Company
198) "If you want to achieve excellence, you can get there today. As of this second, quit doing less-than-excellent work."

– Thomas J. Watson
199) "When we are no longer able to change a situation, we are challenged to change ourselves."

– Viktor E. Frankl, Man's Search for Meaning
We hope you have found these quotes on goal setting useful. Again, if you feel we have missed any, or if you believe we have misrepresented someone, please let us know in the comments section below so we can update the quote or quotes. Goal setting also has its own topic section within Unstick.Me, if you are looking for more goal setting content please take a look here.